Introducing the REBOL Internet Operating System: IOS
First there was email, then the web, then instant messaging. Now there's REBOL/IOS.
Return to: IOS Home Page
A better approach to group communications
IOS goes beyond email, the web, and IM to provide real-time electronic interaction, collaboration, and sharing. It opens a private, noise-free channel to those who matter most in your business and life.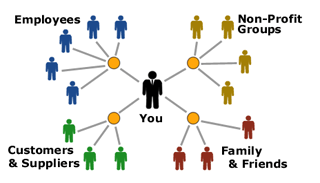 IOS is like having your own virtual private network where your partners, members, and peers share both data and applications in real-time. It's easy to access from different computers at your office, home, or on the road, plus REBOL's unique X Internet distributed computing technology makes it work even when you're not connected to the Internet.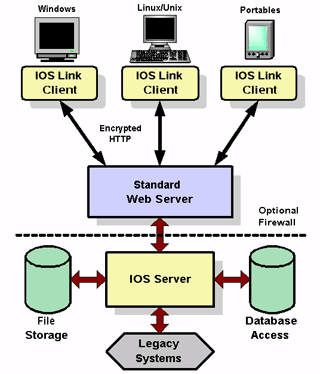 IOS collaborative applications are lightweight and agile. - And smaller is better, because it makes applications easier to create, debug, deploy, and customize - offering a return-on-investment in weeks, not years.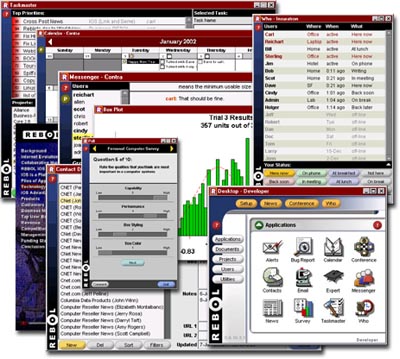 Dozens of IOS applications are available and many more are being developed by IOS solution partners. Consultants, VARs, ISPs, and OEMs can rapidly adapt IOS applications for their markets. IOS is ideal for insurance, medical, real estate, legal, travel, financial, education, and government solutions.
IOS applications run across many Internet devices. - Applications run across devices without modification, and by using the standard HTTP protocol, no changes to your existing network infrastructure are necessary. IOS can be installed and operational in less than 30 minutes.
Summary
Instant, interactive 2-way communications.
Useful for both inter- and intra-enterprise.
Applications are dynamically updated.
X Internet method reduces network bandwidth.
Custom applications created in days, not months.
Full strength encryption, certificates, and authentication.
Integrates quickly with legacy systems and existing databases.
Administrative functions can be script operated.